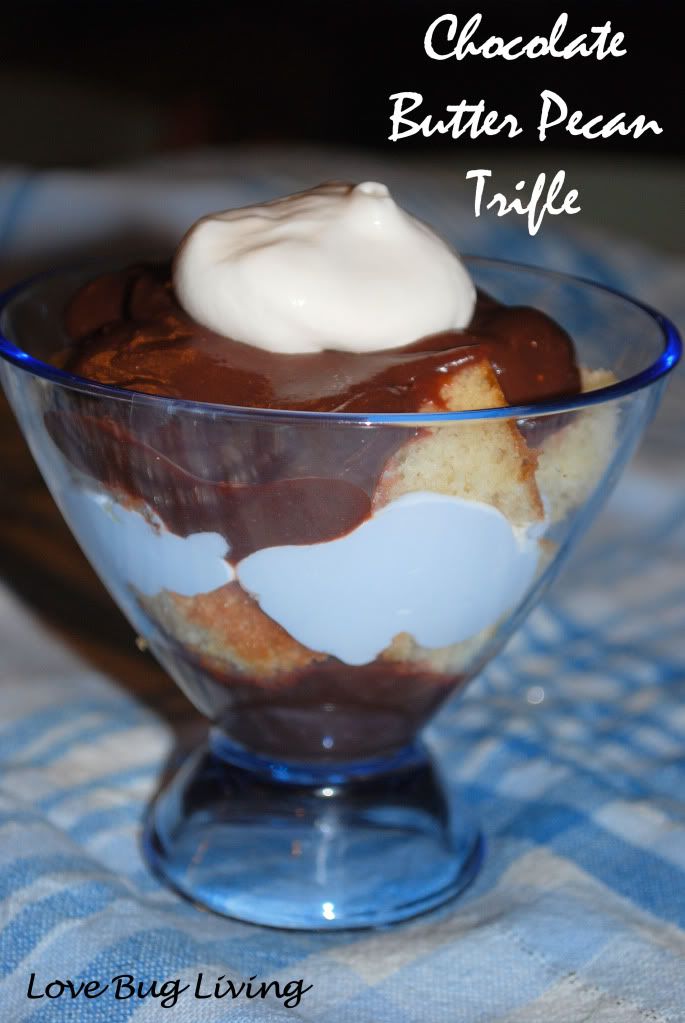 For Valentine's Day I wanted to make the girls a little after dinner treat! Of course I kind of waited until the last minute so I had to create something out of what I had in the cabinet. Luckily I had a box of cake mix from a recent buy one get one free sale. It was butter pecan flavor, which I'm not really sure why we bought. Sounds good, I've just never had it before. After searching the pantry, I also found a box of instant chocolate pudding. With just a quick trip to the grocery store by the hubby, we have the beginnings of a trifle!
I made the butter pecan cake mix as directed on the box in a 13 x 9 pan. Allow to cool and cut into one inch pieces. Since I'd never made it before, I had to do a taste test. Pretty good! It tasted like pancakes with maple syrup!
Prepare your chocolate pudding according to the directions on the box and let set in the fridge.
Now we can start layering! I chose to make ours in individual little cups so everyone could have their own. You could easily make this in a large trifle bowl as well.
Start with a thin layer of pudding in the bottom of your bowl and place a layer of cake pieces on top. Spread with cool whip and then another layer of cake. Add another layer of pudding. Finish it off with a dollop of cool whip. Refrigerate it for an hour and serve.