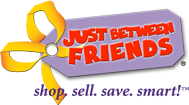 Want to make some money while getting rid of those outgrown clothes and unplayed with toys? How about those maternity clothes that you don't need anymore?
This past weekend I was a consignor at the
Just Between Friends - Central Florida
sale. I've been a consignor for a couple of years now and this was by far my best sale yet! I'm so excited about it! I feel like it is a great way for stay at home moms (or really anyone) to make some extra money. Not to mention the great deals you find shopping at the sale.
This is how it works. You can find a sale in your area at
Just Between Friends.
You will then register for the sale. You can sign up to be a consignor (to sell your items), a shopper, a volunteer, first time mom or all of the above. This will get you on the mailing list so that you can be up to date on all of the stuff going on and all the info you will need. After you are signed up, you will receive a consignor number. This is basically your account number that you will need to tag your items, keep track of your items and your sales. Now you can start tagging! This can be done year round so that when the sale comes up, you already have everything tagged and ready to sell. JBF has their own
Tagging System
that is easy to use. Just put in the item info and it will create the tags so you can print them out. Just Between Friends has all the info you need to find out What to Sell, How To Tag, and everything else you need to know. Before the sale starts, you will have a time to come and set up your items. Now you just wait and check your sales report to see all of your sales coming in!!
While you are waiting to see how much you sell, you might as well stop by and check out the great deals for yourself. There is always a ton of clothes. Baby equipment is always a good seller since you can find it in great condition for about half the price you would find it for in stores. I always look for deals on school uniforms for the girls. They like to check out the toys and books. I always seem to find items that I wasn't looking for, but were such a great deal that I couldn't pass them up. It's always fun to be shopping and see someone else so excited to buy something that you are selling. It's nice to see that the items will still be useful for someone else. Towards the end of the sale, certain items are sold at 50% off. Another opportunity to go back and get even more deals! I ended up shopping three different times at this sale!
My goal is to always make more than I spend! Definitely made my goal this year.
Consignors earn 65% of their total sales. You can also sign up to volunteer, which can earn you even more of your sales. These sales could not run without the help of volunteers! Another great perk for volunteering is that you get early entry into the sale and the half off sale. Some of the good stuff goes quickly, so it is always a good thing to be one of the first shoppers!
After the sale you can go by to pick up your leftover items or you can choose to donate them. All of these items are donated to a local charity in need. Here in Central FL they go to Mustard Seed.
I've been saving for a new camera for a while now. The one I want isn't cheap either, so I was figuring it was going to be another year of saving birthday and Christmas money until I could afford it. After such a great weekend of sales, I'm happy to say that I will be soon shopping for a new DSLR camera! I can't tell you how long I've been wanting one. I'm sure my father-in-law will be happy to have his camera back too since I borrowed it about 3 months ago. Oops! He probably thought that I had taken it hostage.
I hope this helps give you just a little bit more information on consignment sales.
Just Between Friends
holds their sales twice a year. The next sale will be held in September. Check them out to see if they have a sale in your area. If not I bet there is another company that does have a sale. The process is probably pretty similar. It does take a little bit of work to get everything ready for the sale, but you can do it all on your own schedule during nap time or whatever works. The work has definitely been worth it too. It's hard to find a way to make that extra money, so why not take advantage of all of those outgrown clothes and baby items. Definitely better than a garage sale. Good luck!