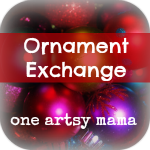 This bird's nest ornament is a great project for beginners because it doesn't have to be perfect. Actually you want it to have a few twists and bends to make it more nest like.
You will need to have 20 gauge wire and beads of your choice for your eggs. You will also need needle nose pliers to help with bending and cutting your wire.
Slip your beads onto one end of your wire and slide them down a couple of inches. Bend your short end around your beads, keeping them in place. Now take the long end and start wrapping it around your beads the other way.
When you are about half way through your nest, you can twist a loop to tie your ribbon to. Putting it in the middle will make it more stable. Continue wrapping your wire until it is the size you would like.
The last two times you wrap the wire around your beads, weave it around the nest as you go. This will help keep the nest wires together. Cut your wire and bend the end back to hide the rough end. Tuck it into the nest. Now you can bend your wires to create a more branchy look. Take your pliers and put little bends in your wire in all directions so that they are not so straight. If you prefer, you can skip this step, but I think it hides any mistakes and gives it a more natural nest look.
Now simply thread a small piece of ribbon through your loop to create a hanger for your ornament. Your bird's nest ornament is now ready for giving or to be hung on the tree. It would also be adorable as a package topper.
Here are the cute felt ornaments I received from my partner!