I've been wanting to make one of these Canvas Photos for a while and I definitely will be making them again. I decided to make these for a gift for my brother. I'm pretty sure he doesn't read my blog often, so hopefully he doesn't start today! If so, act surprised Donny!
Who doesn't love photos? Which makes this Canvas Photo the perfect gift, especially for parents, grandparents or really any family. Have a friend without kids, maybe they'd love a canvas photo of their pet! There is the perfect photo for everyone out there. That is why I chose to make this my last post for Handmaking the Holidays!
Looking for some other great ideas to help you with
Handmaking the Holidays
? Hop on over to visit Chrissy at
Muse of the Morning
, Heather at
Feather's Flights
, and Sandee at
In the Hills of North Carolina
to see what they are sharing!
To make your canvas photo you will need a canvas (I used 8x10's), a photo the same size as your canvas, matte Mod Podge, foam brushes, and black paint (or any color that matches your photo.)
I began by painting the edges of my canvas black. Also paint a bit of the top front edge of your canvas as well, just to make sure that none of the white shows through. Let dry.
Apply a layer of your mod podge to the back of your photo and the front of your canvas with your foam brush. Set your photo on top of your canvas, matching up the sides as best as you can.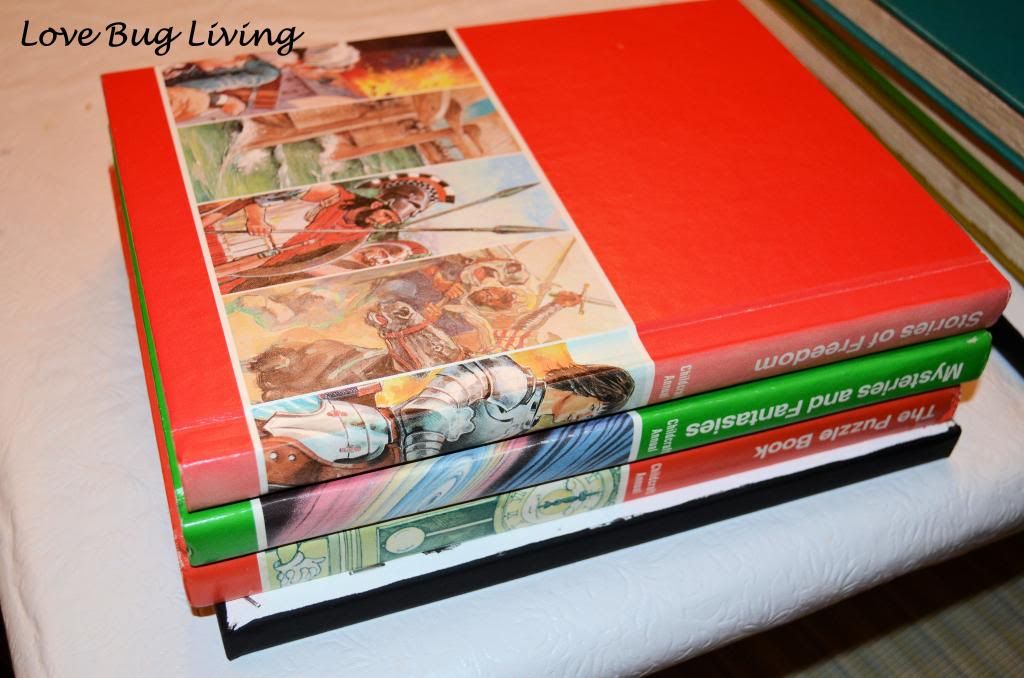 I turned my photo face down on a clean surface and then added some heavy books on top for pressure. I left it like this to dry.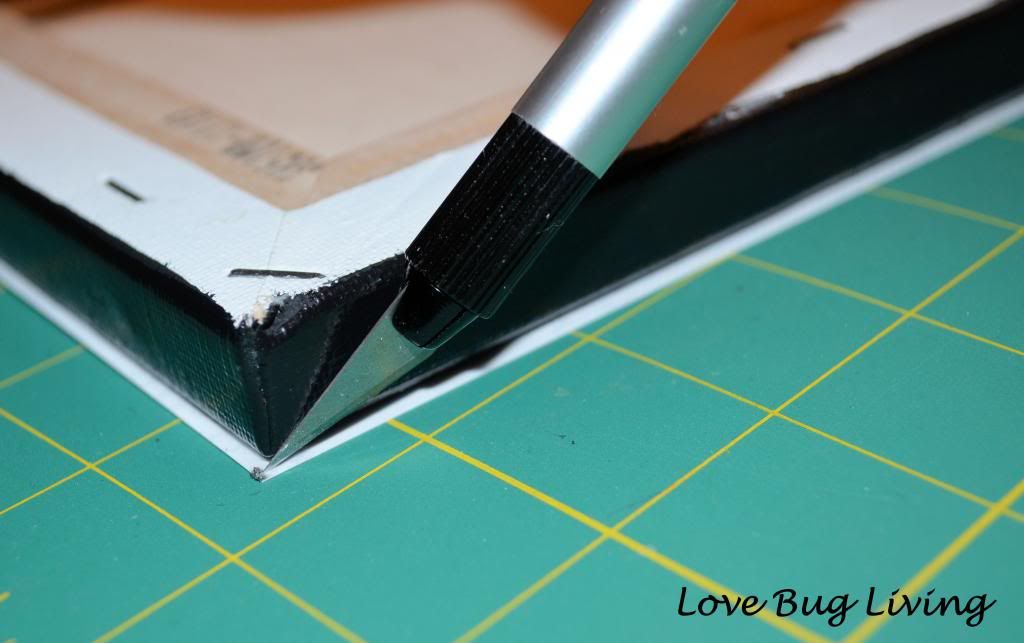 If your edges don't match up just right, you can turn your canvas face down on a cutting mat. Use a craft knife or razor blade to cut the excess off, using the canvas edge as your guide. Be sure you don't nick the edge of your canvas or you could slice it. If you have to, you can go back and touch up the sides with your paint if you need to.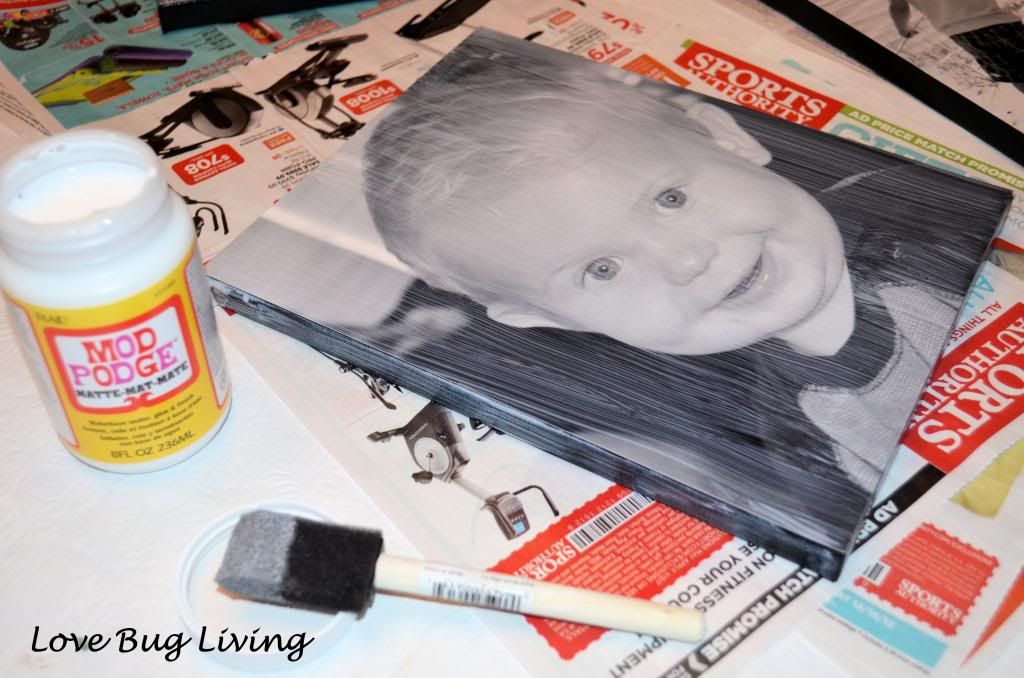 Now apply your Mod Podge onto the front and sides of your canvas photo. Allow to dry completely. The photo will look a little cloudy like mine does after applying the Mod Podge, but don't worry it does dry clear. It actually adds a little texture which I think adds to the canvas effect. I did add a second coat after it dried.
Your photo is now ready to hang. The painted edges really give it a more finished look. These are going to look great hung up on the wall. My brother is a great Dad, and I'm sure he is going to be proud to have his boys adorning his walls.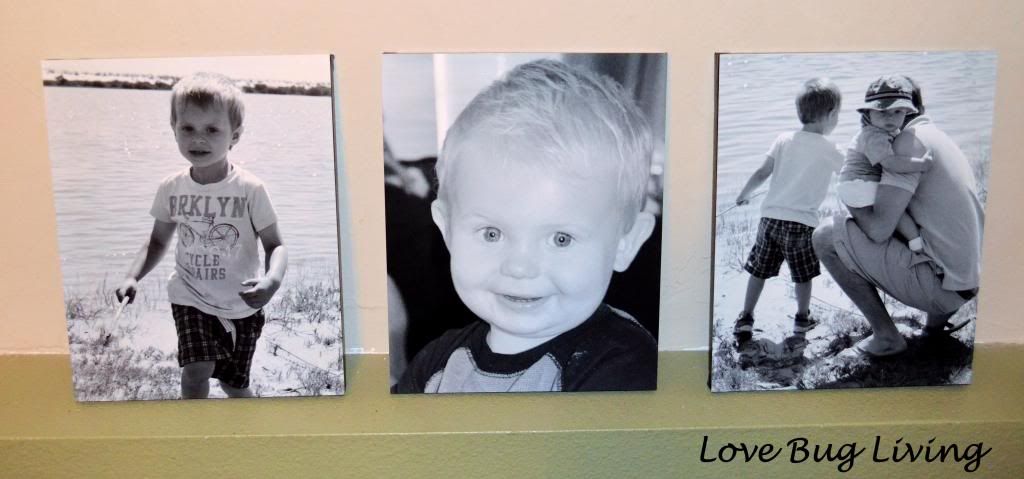 I've had so much fun being part of this Handmaking the Holidays series. Thanks to Chrissy for letting me apart of it. It's been fun meeting and sharing ideas with all of the ladies. Happy Holidays to everyone!