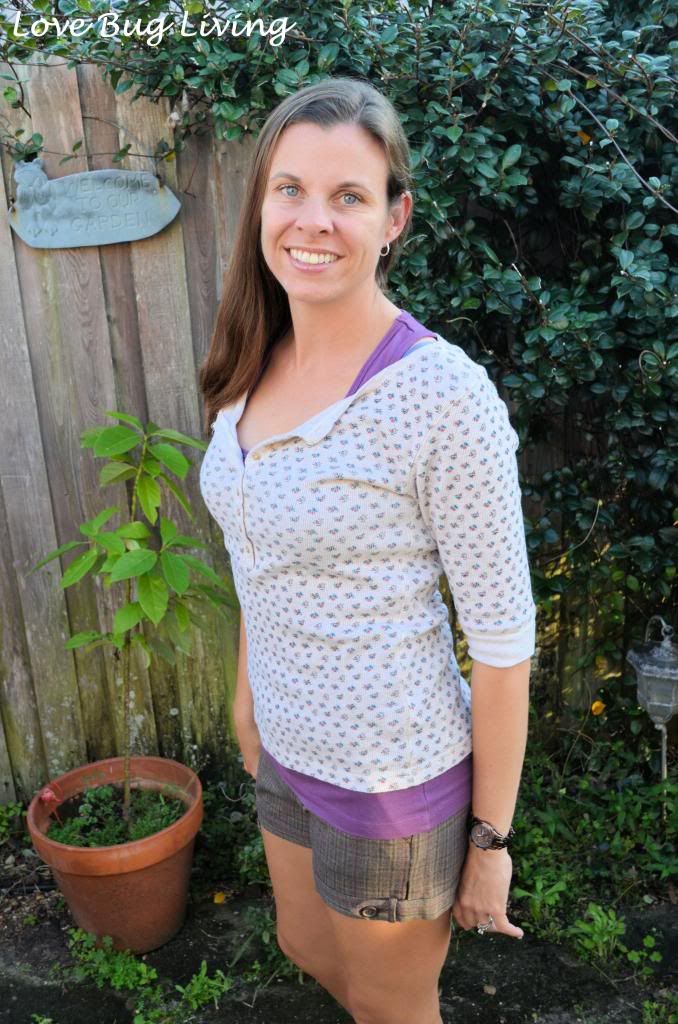 It's time for another Copy Cat Closet from
Ma Nouvelle Mode
and
The Grant Life
. This week's challenge was inspired by Alissa at
Rags to Stitches
. She challenged us to mix patterns and colors. Some tips she offered were to have one pattern that stands out more than the other, experiment with your closet, and to be confident.


I must say that I was a bit nervous about this challenge. I don't really have many patterns in my closet. I have shirts that have printed graphics on them, but not many with all over patterns. I have even less bottoms that have prints on them.
Luckily I found something that I think works. These tweed looking shorts have a bit of a plaid on them. I matched them with a cream flower printed top. I separated the two with a purple tank that brought out colors in both the shorts and the tank. The pattern is more obvious in the top, with the plaid in the shorts a bit more subtle.
Flower top - Faded Glory (Walmart), Purple tank - Mossimo (Target), Tweed shorts - Old Navy, watch - Kim Rodgers (Belk), Sandals - Banana Republic outlet.
I really enjoy these weekly challenges. I've always loved fashion, but don't always know what to do with the things in my closet. These challenges have really helped me expand my wardrobe and the outfits that I create. Hope these looks help you become creative in your closet.